Books & Maps
Books & Maps
Route 66: EZ66 Guide for Travelers – 3rd edition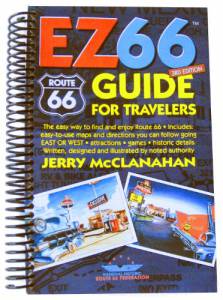 Similar
Route 66: EZ66 Guide for Travelers – 3rd edition
This is the 3rd edition of the highly acclaimed travel guide to Route 66. It has both eastbound and westbound directions. In addition, it also contains maps, and points out things to see and do.
The guide is designed to point out an easy to follow path, keeping you on Route 66 without sending you into every dead-end or hard to reach area.
It's considered a must by many a seasoned Route 66 traveler.
This is an old version, get the latest edition instead
Author: Jerry McClanahan
ISBN: 0970995199
Publisher: National Historic Route 66 Federation
Published: 2013
Pages: 200
Binding: Spiral-bound