Ordered from Eastbound to WestboundChange
Santa Rosa – Tijeras
New Mexico
Printing this description can take a lot of time, so you might want to consider buying commercially available alternatives such as the 8 map set and the EZ66 guide to take along on your trip.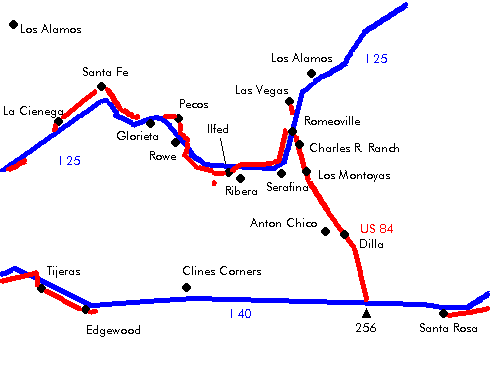 Santa Rosa
The Silver Moon Restaurant
Cross I-40 near exit 275.
Ma & Pa Motel on the right.
Tower Motel on the left.
Club Cafe on the right.
County courthouse a bit to the south at 5th St.
Straight across the intersection with 4th St.
Movie theater on 4th St (pre-1939 alignment).
Johnson Wharehouse on the right.
Comet Drive-in.
Coronado Court Motel.
Cross the Pecos River.
Curve right at the intersection with US-54 onto BL-40 (Historic Route 66)
Pat's Apartments on the left.
Pass under the railroad.
The railroad underpass is the Santa Rosa RR bridge.
Continue northwest on BL-40 (Historic Route 66).
Enter I-40 westbound at exit 273.
A left onto Riviera Rd. puts you on a dead-end alignment of Route 66.
Pre-1937 alignment: into town is La Pradira Ave.; Turn right onto 4th St., turn left onto later alignment.
Out of town there is a rumored pre 1937 alignment ran straight towards Dila, that road is abandoned.
Use exit 267 from I-40 (To Colonias).
The eastward frontage road is a Route 66 alignment, one can drive a bit more than 2 miles east on it.
Rejoin I-40 at exit 267.
Las Vegas Junction
Choose here between alignments, the consequences of that choice will go on for many miles, so choose wisely:
Pre 1937 alignment
Post 1937 alignment

Pre 1937 alignment

Use exit 256 (To Las Vegas).

Turn north on US-84 (Historic Route 66).

Dilla

Continue north on US-84 (Historic Route 66).

Los Montoyas

Continue north on US-84 (Historic Route 66).

Charles R Ranch

Continue north on US-84 (Historic Route 66).

Romeoville

Continue north on US-84 (Historic Route 66).

Cross over I-25.

turn left onto US-84, while avoiding the I-25 on-ramp

Serafina/Bernal

Continue on US-84 on the north side on I-25.

Ribera/San Jose

Continue on US-84 on the north side on I-25.

Ilfed/Sands

Cross to the south side of I-25 at exit 319.

Rowe

Cross I-25 to the east side near exit 307.

Continue on NM-63 northbound on the eastern side of I-25.

Pecos

Turn left onto NM-50 at the intersection with NM-50/NM-223.

Continue east on NM-50.

Glorieta

Take I-25 at exit 299.

Canoncito

Use exit 294 (Canoncita)

Continue west on the north frontage road (NM-300, Old Las Vegas Hwy.) towards Santa Fe.

There are sources labeling Old Santa Fe trail (more to the east) as an alternative to Las Vegas Hwy./Old Pecos Trail as an alignment into Santa Fe.

Santa Fe

Turn right onto Old Pecos Trail (NM-466) near exit 284.

Continue slight right (=north) at the intersection with St. Michael's Dr. (NM-466) onto Old Pecos Trail.

Continue slight left (=north) onto Old Santa Fe trail as it joins from the right.

Cross straight at the intersection with Paseo De Peralta (NM-589).

Sate Capitol on the left at next intersection.

San Miguel mission on the right at 401 Old Santa Fe Trl.

The oldest house in Santa Fe on the right at the intersection with De Vargas St. (215 E De Vargas St.).

Cross straight ahead at Alameda St.

Turn next left onto Water St.

Turn left onto Galisteo St.

Turn slight left onto Cerrillos Rd. (NM-14).

The Wheelwright Museum has Native American pottery exhibited. Also the International Folk Art Museum is nearby. Admission is either nominal or by donation. Downtown is one of the older dwellings in the US, from the early 1600s.

Continue south on Cerillos Rd. (NM-14).

La Cienega

Continue on I-40 past exit 256.

See old route 66 bridge from the current bridge over I-40. just east of the rest area at exit 252.

Flying C Ranch

Continue on I-40 past exit 234.

Palma

Palma was located on US-66 and NM-3

Continue on I-40 past exit 230.

Clines Corners

The service station of Roy Cline moved a number of times as alignments shifted.

Continue on I-40 past exit 218.

Wagon wheel

Continue on I-40 past exit 208.

Longhorn Ranch

The longhorn ranch was a favorite stop and gave a old west feeling. Today only remains can be seen. Route 66 serves as southern frontage road (dead-ends). The owner of the longhorn Ranch once razed the buildings and left them in a disastrous looking state to show his contempt over his neighboring adult establishment.

Continue on I-40 past exit 203.

Moriarty

Use exit 197 (Moriarty) onto BL-40 (NM-333, Route 66 Ave.).

Follow BL-40 (NM-333, Route 66) through Moriarty

Moriarty is executing a landscaping project on Old Route 66 (spring 2004)

Sunset motel on right

Whiting Bros. service station on right

Siesta motel on left

Continue straight across the intersection with Howard Cavasos Blvd. (NM-41).

Former Crossley Place (now shoe show).

Sands motel on left

Old Yucca Motel (closed in spring 2004) on right

Old Cactus Motel (a mall in spring 2004) on left

Lariat Motel on left.

Ponderosa Motel on left.

Route 66 Motel on left.

Route 66 shopping center on right.

At the west end of town , just before the I-40 interchange, turn left onto NM-333 (Highway 66) westbound.

Edgewood

Continue on NM-333 (Historic Route 66).

Barton

Continue on NM-333 (Historic Route 66).

Sedillo

Alternative: An older than the final alignment is going north for a loop here:
Turn right onto Sedillo Hill Rd.
Cross I-40 at exit 181.
Continue right on Sedillo Hill Rd. for about 3.5 miles.
Cross I-40 to the south.
Turn right onto NM-333.

Continue on NM-333 (Highway 66).

Zuzax

Continue on NM-333 (southern frontage road).

Tijeras

Continue on NM-333 (Highway 66).

continue