Ordered from Eastbound to WestboundChange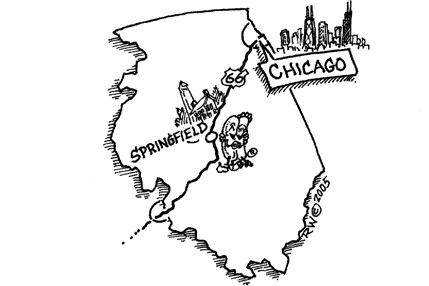 Random point of interest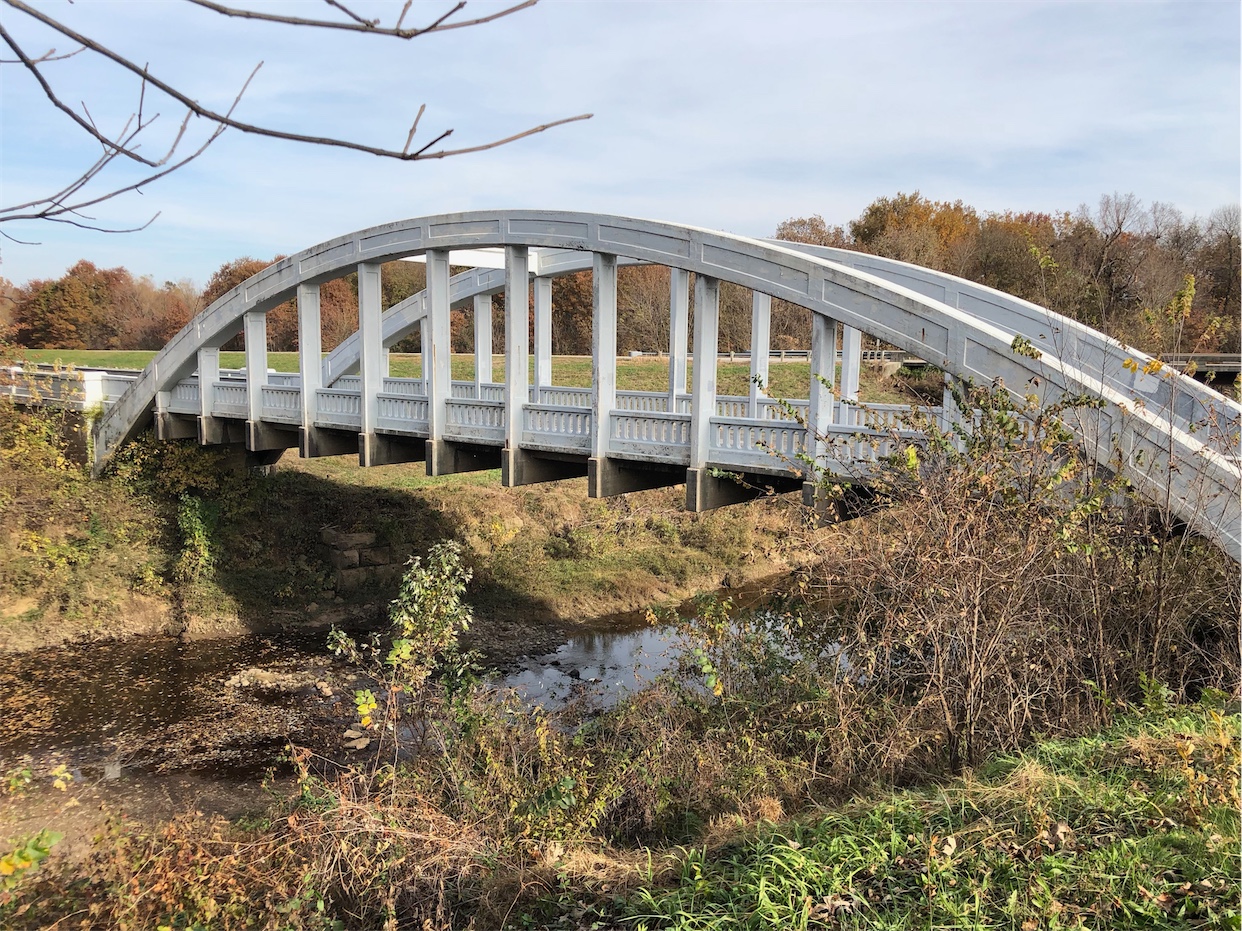 Brush Creek Bridge
Listed on the National Register of Historic Places, the Brush Creek Bridge is the last ...
Detail
Bloomington – Springfield
Illinois
Bloomington
Exit Bloomington on Beich Rd.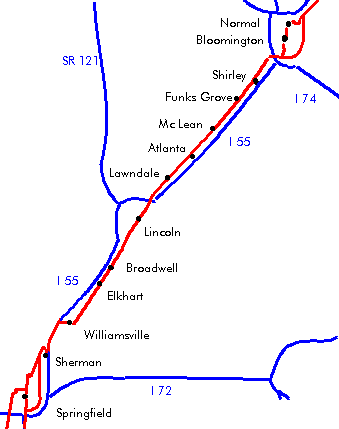 Shirley
Continue on Old Route 66 next to the railroad.
Funk's Grove
Founded in 1825 by Isaac Funk, actually very small as the population never got above 50 people.
Continue on Old Route 66 next to the railroad.
Maple Sirup at Funk's grove: The Funk family has been making maple sirup since 1981. Stop for a free tasting, and if you like it, choose between the bottles for sale.
Cemetery: If you visit the Funk's Grove cemetery, you'll see that a lot of the tombs have the name of 'Funk' on them.
General store.
Train depot.
Mc Lean
Follow Old Route 66 as it curves left (=south) onto Steward Rd.
Make a right onto E. Carlyle St.
Left onto Main St.
Go to US 136.
Dixie Truckers Home: The first truck stop was founded here in 1928 by J.P. Waters and J.W. Geske. It was always open, 365 days a year, 24 hours a day. It was closed only one day due to a fire, till it closed in 2003.
The Dixie Truckers Home also featured the Hall of Fame of the Route 66 Association of Illinois till 2003. It will be moved to the Route 66 Museum in Pontiac.
Head west on US-136 to the railroad tracks.
Turn left before the track.
Head for Atlanta, IL.
Atlanta
Do not use the bypass, use Arch St., Atlanta should not be missed.
Wall murals around town.
Old J.H. Hawes elevator, made of wood, built around 1902, located at 2nd St.
The Bunyon Giant, aka Tall Paul, the fiberglass "muffler man" that used to advertise a restaurant in Berwyn was restored and relocated to Atlanta (Dec 2003), located on Arch St. between Race and Vine.
Atlanta Public Library & Clock Tower, built in 1908, is now a museum, located at the intersection of Arch St. and Race St.
While not on Route 66, Hamblins Superette, a mom and pop grocery at 107 Vine St. is a survivor from the Route 66 days, it's renamed to Atlanta Country Market in April 2004.
Continue on the frontage road.
Lawndale
Continue on the frontage road.
Lincoln
2lane
4lane bypass
While entering Lincoln, make a left onto Kickapoo St.

Right onto Keokuk St. (IL-10 & IL-121) (northwest).

Sidetrip: University Hall at 300 Keokuk St.

Left immediately after the railroad tracks onto Logan St. (southwest).

Lincoln Courthouse Square Historic District one block on the left near Pekin, Broadway and Pulaski St.

Sidetrip: Lincoln public library at 725 Pulaski St.

Sidetrip: City hall has a famous phone booth on its roof, located at 700 Broadway St.

Follow slightly right onto 5th St. (west).

Postville Courthouse, on the right side between Monroe St. and Madison St. The building was sold in 1929 to H. Ford, who took it away, the site was repurposed in 1946 and a replica of the building was built in 1953.

Left onto Washington St.

The Mill Restaurant, 738 Washington, is in business since 1931. The restaurant is famous for its schnitzel.

Turn left (=south) on I-55 Business Loop

For an old (dead-end) alignment:
Turn immediately right on Cemetary Rd.
First left onto Cobblestone Ave.
To the right: Old Union Cemetery.
To the left: Holy Cross Cemetery.
Ghost bridge over Salt Creek.
This would rejoin BL-55 at the next intersection.

1.5 miles after crossing Salt Creek, turn left on the frontage road in order to stay with the railroad.

Continue on the I-55 business loop.

The Tropics Restaurant at Woodlawn and Lincoln Pkwy.

Rejoin at the X and X, heading X on X.
Broadwell
North of Broadwell, make a left at another frontage road sign onto CR-12.
The Pig Hip Restaurant used to be here (from 1937 until it closed in 1991) at 101 W. Oak St., now restored and turned into the Pig Hip Museum.
Continue on the frontage rd.
Elkhart
About 1 mile north of Elkhart (3 miles south of leaving Broadwell), a section of 2 lane road on the left.
Elkhart Hill is a glacial moraine that rises above the prairie. The landmark used to be an excellent orientation point for the Indians, who saw the shape of an elk's heart in it.
Elkhart cemetery can be reached via County 10, that winds through Elkhart and heads directly east. The interesting cemetery is to the right, just before the road passes under an old bridge. The cemetery contains the graves of John Dean Gillett ("Cattle king of the world"), Governor Richard J. Oglesby and Capt. Adam Bogardus (wing shot champion of the world).
Continue straight past Kennedy St. onto the Frontage Road.
Williamsville
Turn right at the stop sign.
To visit Williamsville, turn left instead, Route 66 doesn't cross Williamsville.
Continue straight for some old Route 66 then turn back onto Elm St. next to the tracks.
Route 66 Dream Car Museum at 530 W Main st.
Die Cast Auto Sales at 117 N. Elm St.
Cross over I-55.
a choice of alignments is available:
avoid I-55
I-55
Left onto Frontage Road.

3 Way intersection: turn left.

Cross I55.

First right.

Follow through Sherman.

Enter I-55 South (exit 108) and continue to exit 105 (Sherman).
continue
I-55 Business loop northbound was once Route 66. 0.5 Mile before BL-55 rejoins I-55, an old stretch of road can be found.
Sherman
For over 8 km long, the first 4 lane portion of Route 66 straight through the town. 2 of the 4 lanes are closed now, but the effect is still visible.
Springfield
Lincoln lived in Springfield until he departed in 1861 for the white house.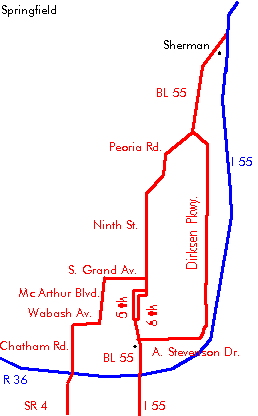 Follow Business Loop 55 into Springfield.