Ordered from Eastbound to WestboundChange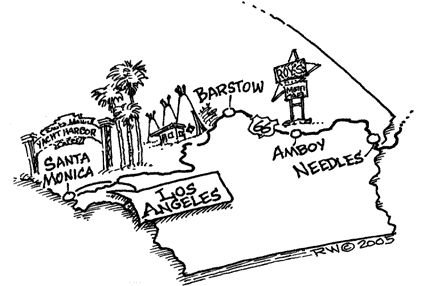 Random point of interest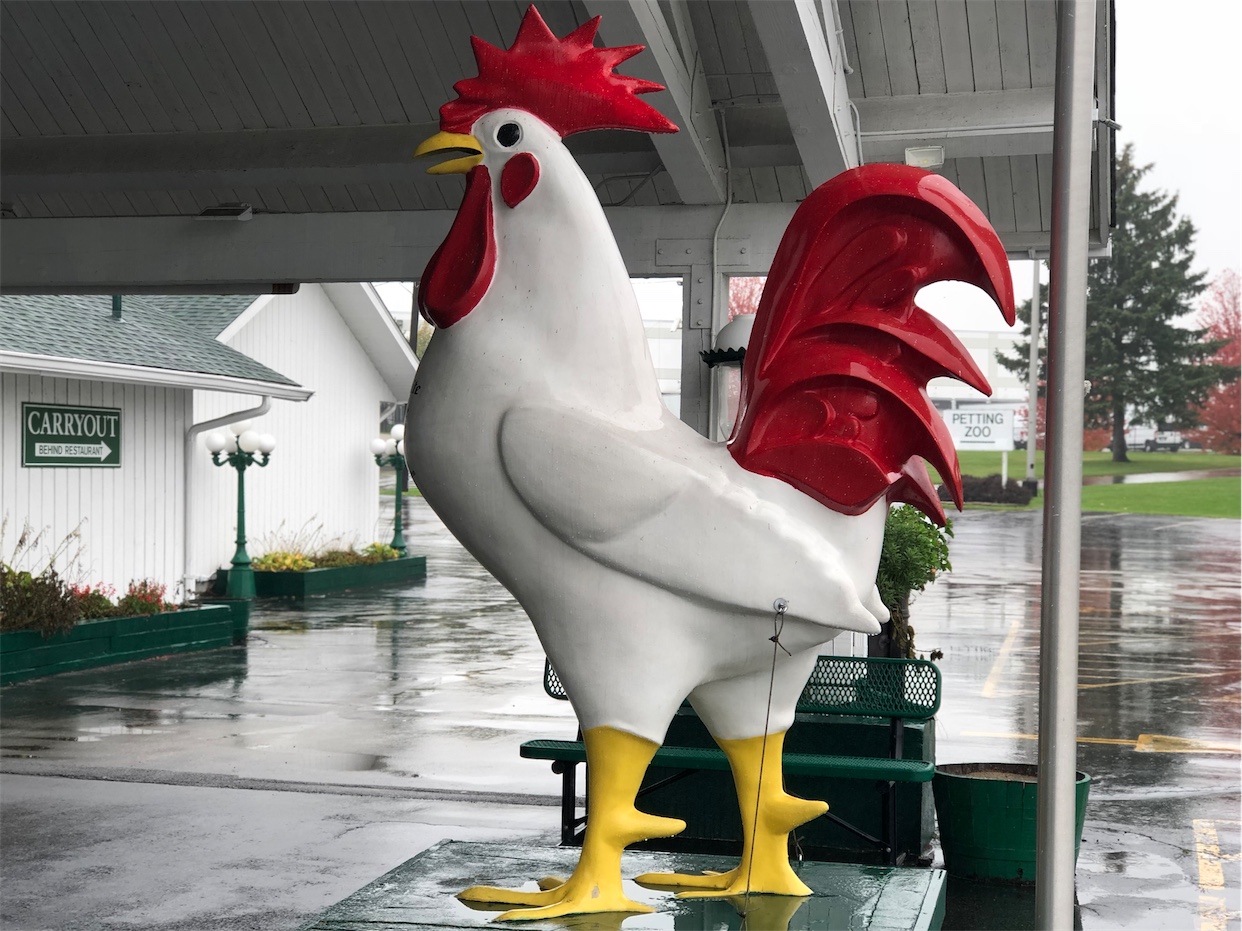 White Fence Farm
For more than 75 years a specialty at White Fence Farm has been the chicken dinners. ...
Detail
San Bernardino – Upland
California
Printing this description can take a lot of time, so you might want to consider buying commercially available alternatives such as the 8 map set and the EZ66 guide to take along on your trip.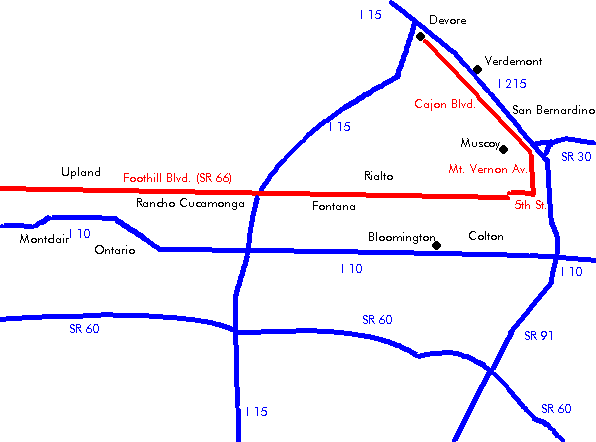 San Bernardino
US-66
City route
Enter San Bernardino on Cajon Blvd.

Pass under CA-30.

Pass under Mt. Vernon Ave.

Pass under Highland Av.

Follow the right turn towards the intersection with Mount Vernon Av.

Turn left(=south) onto Mount Vernon Ave.

Continue for 1.9 miles south on Mt. Vernon Ave.

There are many old businesses along this stretch.

Turn right(=west) onto 5th St.

San Bernardino is a large railroad interchange, some evidence is just south of 5th St.: A large "Santa Fe" smoke stack that was attached to the demolished roundhouse.

Prior to 1931, 4th St. and Mt. Vernon were the Route 66 alignment.

It's still unclear where to start from Cajon Blvd.

E St. southbound.

The true first and original McDonalds was at 14th and E St., now there's an unofficial museum. The #1 McDonalds on the other end of Route 66 in Des Plaines Chicago was the first built by Ray Kroc, don't let corporate McDonalds fool you, this is the location of real first McDonalds hamburger restaurant that was operated by Maurice and Richard McDonald. The building is a later McDonalds restaurant, not the original stand unfortunately. The McDonalds brothers also had other restaurants (even before this one), and had a few franchises as well.

Turn right (=west) onto 5th St.

Cross I-215.

The California Theatre of Performing Arts at 526 W 4th St. is a landmark 1 block south of Business 66. See the mural of Will Rogers, who's last performance was here as well.

continue
Follow the curves left and right as 5th St. becomes Foothill Blvd. (CA-66).
Continue on Foothill Blvd. (CA-66).
The Wigwam Motel on the right at 2728 Foothill Blvd. On the border between Rialto and San Bernardino. For a while, the rooms rented by the hour and the infamous sign "do it in a teepee" was put up. All that is gone when the current owners started to renovate and clean up the property (Spring 2004). The wigwam motel has a sibling on Route 66 in Holbrook Arizona.
Rialto
Rialto was once known for its lemon groves.
Continue on Foothill Blvd. (CA-66).
Fontana
Bono's Restaurant, a classic Italian restaurant at the southwest corner with Sultana Ave.
The last orange juice stand has been relocated here as well, there used to be many more of these stands selling orange juice to travelers.
Continue on Foothill Blvd. (CA-66).
Rancho Cucamonga.
Rancho Cucamonga used to be known for it's vineyards, but they seem to be making place for the city.
Continue on Foothill Blvd. (CA-66).
Cross under I-15 at the Foothill Blvd. exit.
Old 1920's gas and service station, at the northwest corner with Archibald from an era when Rancho Cucamonga was the countryside, not as it is today.
Site of Dolly's dinner next to the gas station above.
Route 66 Memories: A curio shop
Route 66 Visitors Center and Museum at 8916 Foothill Blvd.
Continue on Foothill Blvd as it curves left and right and crosses over the railroad tracks.
The 1848 Sycamore Inn on the right once a coach stop, now a diner. Note the Bear Gulch monument
Upland
Continue on Foothill Blvd. (CA-66).