FAQ
FAQ
What season is best for that trip down Route 66?
Back to FAQ overview
Random point of interest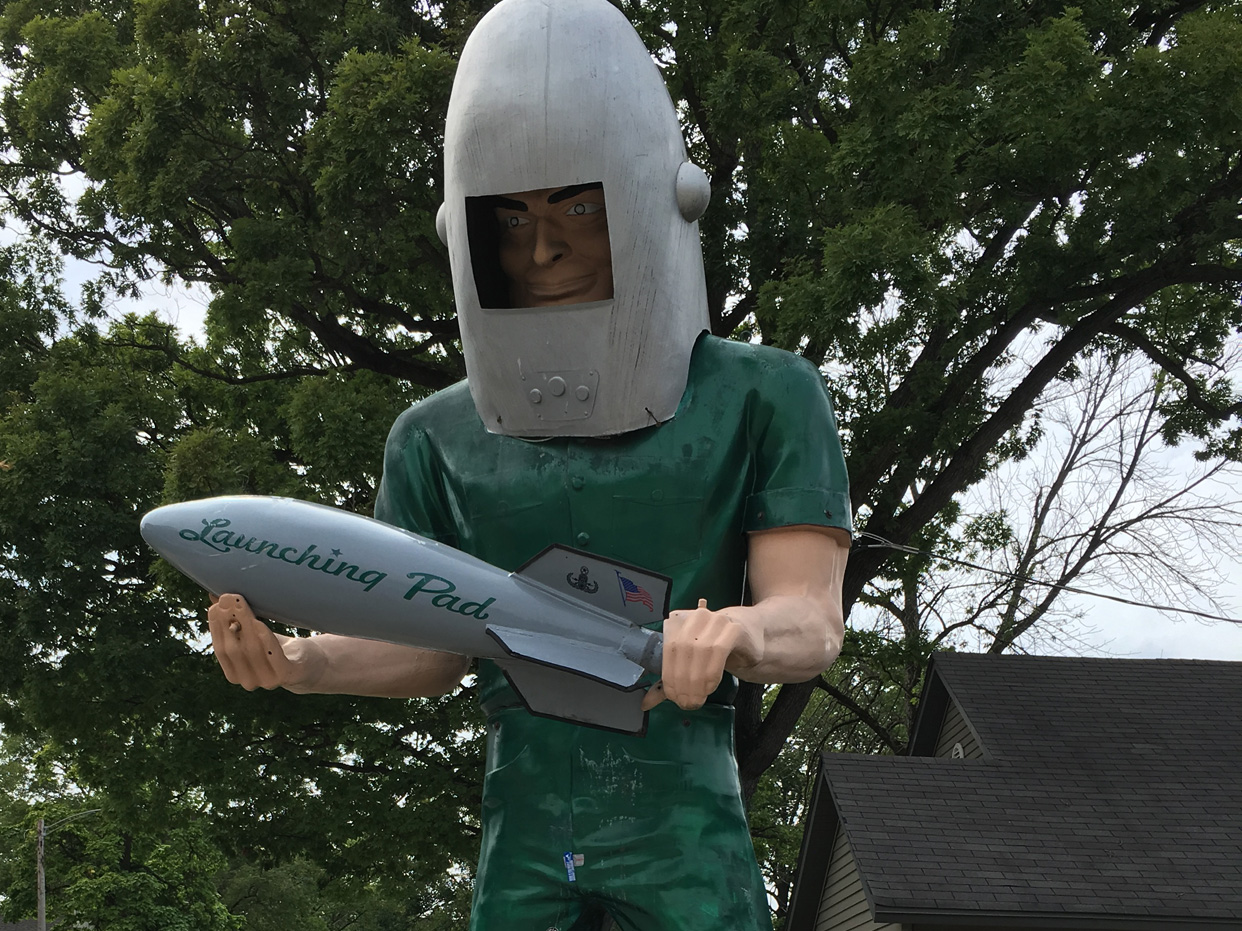 Gemini Giant
The Gemini Giant statue wearing a space helmet and holding a rocket at the Launching ...
Detail
What season is best for that trip down Route 66?
Opinions do differ on the subject, but things you might want to consider are:
Seasonal hours of operation
Amount of daylight
Winter conditions
Heat in summer
Off-season prices
Local events
Seasonal hours of operation
The typical tourist season in the US runs from Memorial Day (last Monday of May) till Labor Day (first Monday of September), but Route 66 travel in September will typically be just fine.
Some places close down for winter. Others might have much more limited hours of operation during the off-season. If you have must-see places you want to go inside, make sure they are open. 
Amount of daylight
Winter in the northern hemisphere makes daylight fade away sooner. Unless you want to miss things due to the dark, this means you can only drive fewer hours a day in December when compared to July.
Now, if you want to photograph neon or winter scenery, that might be what you are looking for just as well.
Winter conditions
Route 66 was originally a year-round route for trucks. So, it should not get too bad for prolonged amounts of time. That said, winter conditions with ice and snow do occur. In the more northern parts (like Chicago) that risk is higher, just as one would expect. But it is also higher than some might expect on the high planes and especially the Flagstaff area is prone to winter conditions, despite its southern position, due to its high altitude.
The biggest risk -aside from the accidents- is that you can get stuck in a town for a few days, messing up your planning and perhaps making you miss a return flight.
If you do plan a winter trip down Route 66, make sure to be flexible and ready to adapt to conditions as they change.
Heat in summer
The main risk is the deserts you cross in Arizona and California. Modern cars have air-conditioning making traveling through them in the middle of summer nothing to be afraid of. But do remember it gets extremely hot out there. 120 ˚F (about 50 ˚C) is not impossible in the shade. Now here's the catch: there is no shade.
People unfamiliar with deserts need a few warnings:
Carry water! Lots of it. You need about a gallon a day per person
If your car breaks down or even runs out of fuel, open the hood and stay with it. Your car can be seen from the air (remember those signs "patrolled by aircraft"), you cannot, nor can you carry enough water to survive the day.
In the desert, consider a gas tank at half to be empty and fill it up at the very next opportunity, it's not the right time to fuzz over the price of fuel: fill up.
Making sure somebody will call for help and has an idea where you are if you don't report in with them (can be over the phone) before an agreed upon time is a useful safety net. This gets more important as you deviate from the beaten path and for example head out onto a long-abandoned dead-end path in the desert where nobody else might travel that day.
…
Back in the days before cars had air conditioning, people avoided the worst of the heat by traveling through the desert after dark.
Some motorcyclists seem to deal better with the heat when wrapping a wet towel around their neck.
Weather in some select cities
If you scroll down on those weather channel pages, you can see the evolution of the average and record temperatures throughout the year.
Off-season prices
Prices for airline tickets, rental cars and motels typically can change significantly between on and off-season, do check it out, a few days might make a big difference in cost.
Local events
Depending on where you are at a given date, a local Route 66 event might be something you want to try to attend.
On the other hand, some events are so big they use up available motel space in the area or cause prices to rise considerably for those rooms you can find. The most typical problem in this respect is the annual balloon festival in Albuquerque in early October.
Popular
Popular dates to travel are to start at the beginning of September in Chicago:
Not too cold and not winter conditions yet as you start in the east. 
You will already be for more south by the time winter catches up with you.
You might see some limited snow near Flagstaff
By the time you get to California the worst of the heat in the Mohave will be over
It's not too late in the season yet, so most of the places are still in operation.
Spring is equally popular, and a late May, early June start might be just as advisable. This could perhaps be the optimal time of year to travel eastbound.
But you'll get your kicks no matter what time of year you pick.