FAQ
FAQ
What motel/hotel is right for me?
Back to FAQ overview
Random point of interest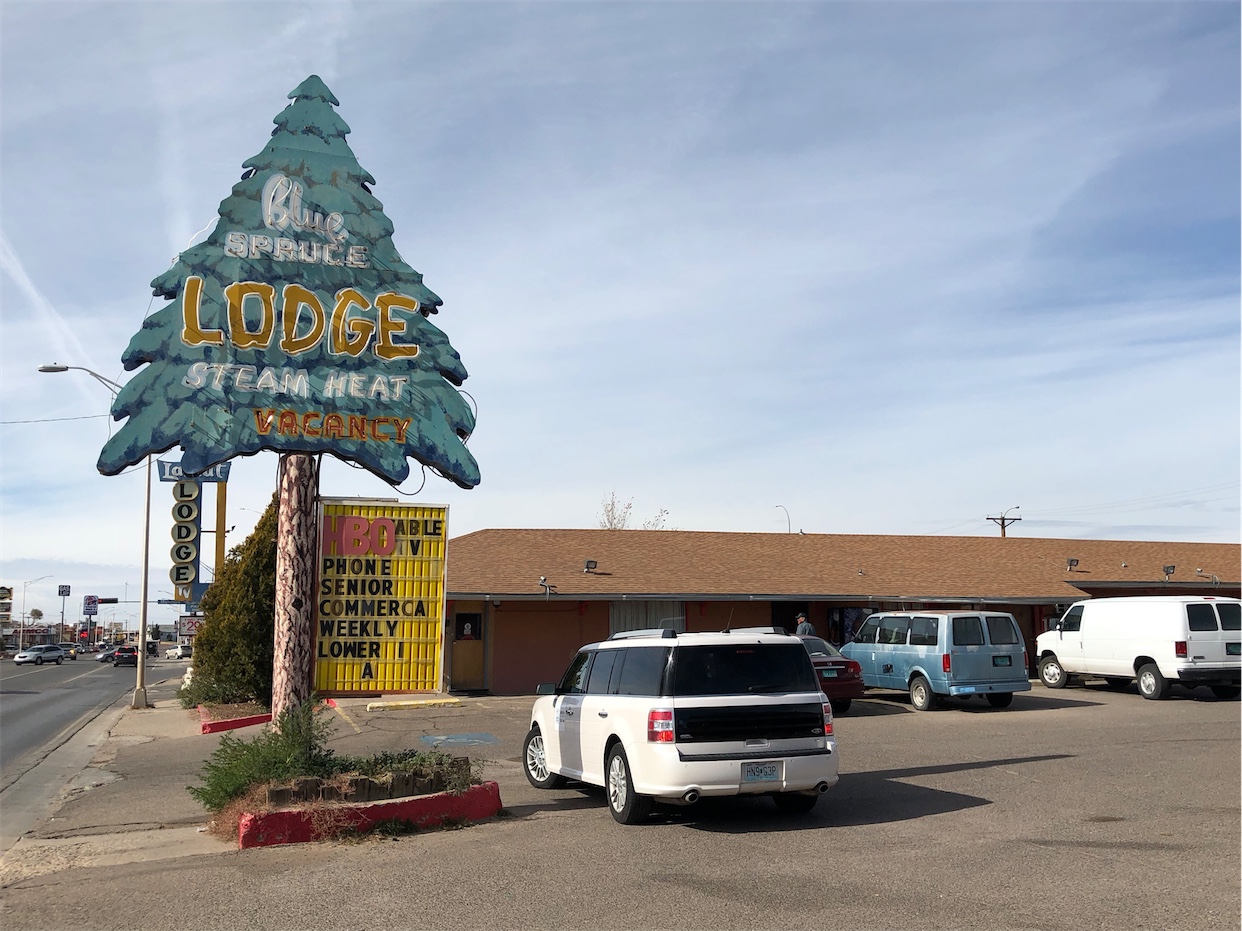 Blue Spruce Lodge
John Milosivich opened this motel in 1949. The 1954 edition of the AAA Western Accommodations Directory noted, "...
Detail
What motel/hotel is right for me?
What motel/hotel is right for me?
We all have different needs and expectations when it comes to our overnight stay while on Route 66.
Some will never want to part with the predictability of their favorite motel chain that gives them comfort in knowing exactly what they will get.
Others will see those same places as a horror of duplicated properties they cannot differentiate and won't be able to tell where they are when they wake up in the morning. Some prefer the business model of a mom-and-pop place where the profits stay in the local economy while they see franchised locations as a drain on the local economy.
So, with these differing preferences in mind, where do you stay and when in doubt how do you find out if a given motel is the right one for you.
Check before you arrive
You can read up on reviews well before you even start your trip. Make sure that if you base decisions on this that the review are:
recent:
Properties can and do change in quality level as well as ownership. It's next to impossible for a new owner who restored a historic motel to get rid of the awful reviews given to the property under a previous owner.
from like-minded people:
Not all tourists are the same: somebody staying in some of the iconic places that doesn't like the history, the kitsch, the patina of the place, would no doubt be less satisfied than those who seek to experience history and kitschy places.
Check their rates: if it's too good to be true …
Check from the outside
Essentially, try to determine both the financial viability of the property as well as the type of clientele they (try to) attract.
Very good signs: recently completed renovations
Good signs: A well-maintained landscaping, a working neon sign, a pool that's clean and open, etc. All of these things cost a lot of money to have and maintain properly.
Bad signs: Unmaintained or dirty pool, unmaintained grounds, dropping out of a chain, etc.
Very bad signs: Too-good-to-be-true rates, advertised weekly rates, mentions of "checks cached", lots of beat-up cars in the parking lot, …
In the end, you get what you pay for in most cases, and places that ask too little money for a night tend to enter a downward spiral with an ever-decreasing quality as well as an ever-decreasing price to match.
The final check just before you rent the room: a room inspection
If you have any doubt, you can always (try to) perform a room inspection. A room inspection is quickly, visually checking the specific room before you commit to renting that room.
If they refuse: They probably know that the room won't stand up to your standards or scrutiny.
If you're renting a room in a truly high-end place, be cautious as you risk insulting the owner/operator by merely asking for this. They probably will go out of their way to accommodate you should you find anything not in perfect condition or to your liking.
If you have booked a pre-paid room or guaranteed the reservation with a credit card, it becomes hard to not rent the room. Still, if you have doubts upon seeing the place it might be easier to cancel the booking if you do it before you used the room. So, it does make a lot of sense to perform a room inspection nonetheless.
What to check?
That the room is clean
That the room is large enough for your needs
The cleanliness of the bathroom.
The smell of the room
The functionality and noise levels of any air-conditioning or heating you intend to use.
What not to do?
Don't insult the owner/operator if the room is not up to your standards.
Just get out on a friendly note and apologize for the work and effort you caused by not renting the room. Something like: "I'm sorry, but I don't think the room is the one for us". Don't try to discuss, be negative about it all, or go out of your way to let them know how you feel. They will probably know what's wrong with their room(s) already, and if they genuinely want to know, they'll have plenty of opportunities to figure it out. Just be glad you get to walk away before you paid for it.
Don't make a mess.
After you inspected the room -esp. if you don't take it- they still need to be able to rent the room without having to call in housekeeping staff (who might be off-duty by the time you get there). So, leave beds etc. untouched. If you feel the need to cause work, you should also be willing to pay for it.
Walk away if you can't determine if the room is up to your standards without making a mess or undoing the bed.
What to expect in a historic motel?
Older, well-maintained motels have a few things that are next to impossible to change without compromising the historic value of the place. The most important of those is the size of the rooms. Our expectations have changed over the years from a simple cabin barely large enough to sleep in, to a spacious room. Most of the iconic, historic places are stuck with the size of the rooms from the time they were built (or rebuilt). So, expect rooms and bathrooms that are a bit smaller than in a more modern building.
Pools can be very costly to adapt to current legal requirements, and sometimes it makes more business sense to eradicate the pool instead of investing ever increasing amounts in order to simply remain compliant with the laws.
Are there any large chain motels that are known to support Route 66?
Hampton-Inn (part of the Hilton group) has a program called "save-a-landmark" that helped refurbish and preserve roadside landmarks along the old road as well as their Route 66 caravan that placed "Route 66 Roadside Attraction" signs all along Route 66.
Full disclosure: this site earns a tiny fee on sales through our partners. It won't cost the visitor anything extra, but it is what keeps this resource available for free.