FAQ
FAQ
What do I need to know when renting a car to drive Route 66?
Back to FAQ overview
Random point of interest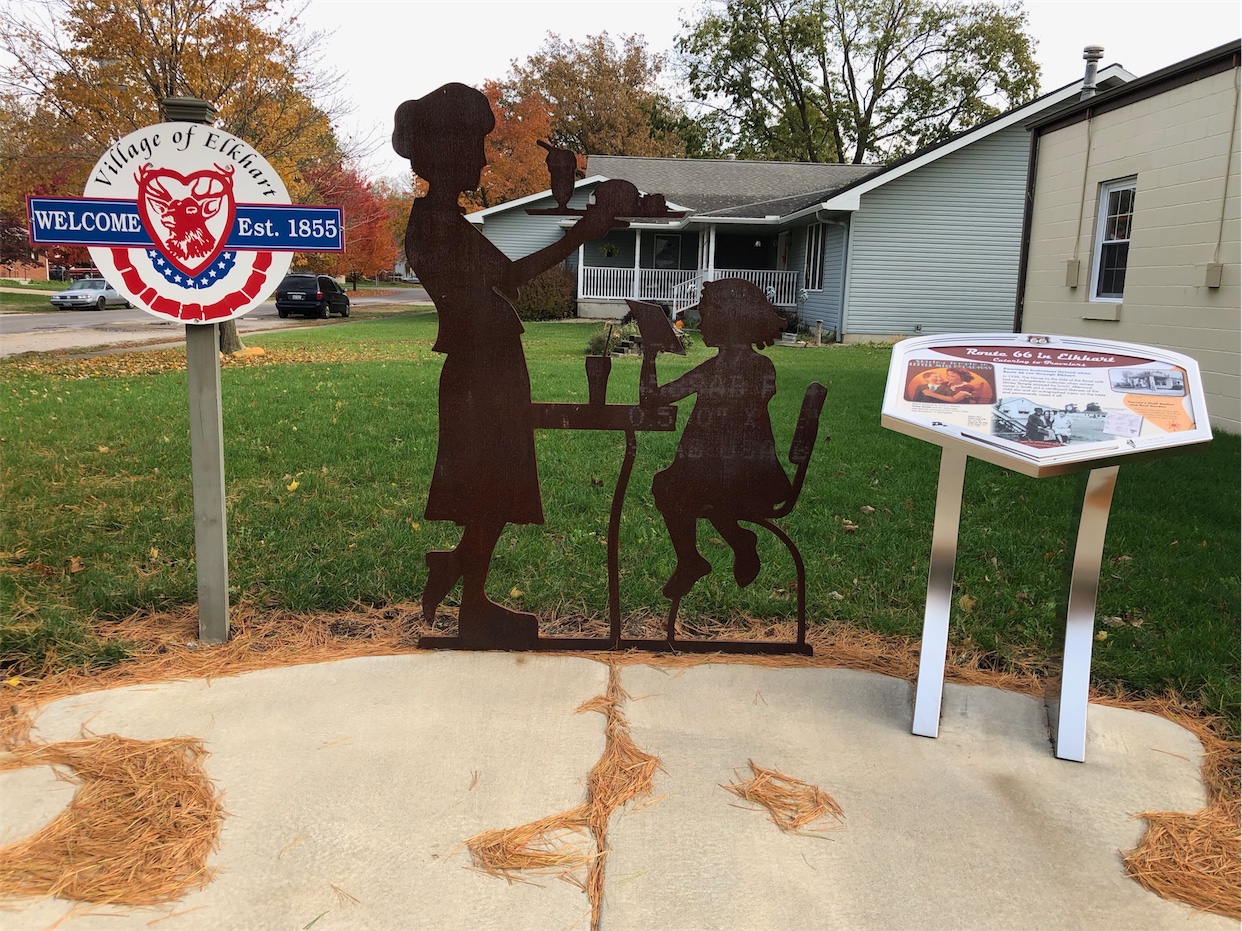 Village of Elkhart
The diminutive business district in Elkhart is a treasure trove of century old buildings, pocket ...
Detail
What do I need to know when renting a car to drive Route 66?
Where do you rent a car?
Large airports have most of the following companies: Alamo, Avis, Budget, Dollar, Enterprise, Hertz, National, …
To get an overview, try rentalcars.com instead of trying each of the rental agencies individually. Moreover, if you're after that elusive convertible for a one-way rental, this is where you have a chance at finding it.
To rent a car, it's easier if you know the 3 letter codes of the airports:
ORD: Chicago O'Hare
LAX: Los Angeles International
One-way rental?
One-way rental is what you do when you do not drive a car back to where you rented it. Some (generally short) distances can be free, but typically it can run from $300.- for the smaller cars up to well over $1000.- on the more expensive cars for a one-way trip from Chicago to L.A.
The name of this fee differs between companies. We'll use "drop-off fee" in this document.
It's common for people to look for ways to avoid this fee, but there's no (reliable) way to do that. At best it will be hidden in a grand total, or worst of all: come as a surprise in the end.
Second driver
You'll find that even if you pay for a rental car, that they will still try to limit who is authorized to drive it. They'll try to make you pay an extra daily fee for the privilege of allowing others to drive the car.
If the second driver is married to the primary driver, make sure to mention it, as they sometimes are free in that case. But it's not always the case.
Young drivers
Drivers younger than 26 should check the details on the rental agreement and might be surprised to learn they get to pay a lot more, or are not allowed to drive the car at all.
Limits
Mostly you will be able to find cars that have unlimited miles. Take care on a Route 66 trip with limited deals as they might end up costing you a lot more.
Some rental cars/agencies sometimes impose limits as to in what states you can drive their car. Make sure you have all the states you need to pass through on your Route 66 trip:
Illinois (IL)
Missouri (MO)
Texas (TX)
Kansas (KS)
Oklahoma (OK)
New Mexico (NM)
Arizona (AZ)
California (CA)
Common ways to save some money when renting a car
Avoid the upgrades
This is the most important one. Avoid the agent upselling a bigger car than what you reserved. It can double the cost if you're not careful.
Discount codes
Discount codes are worth your effort to collect them, also check out if there are any special offers. Special offers might cut the price of a rental car by a lot.
Gas
The rental agency might try to convince you that their gas is a bit cheaper than out on the streets (and that's more than probably a fact). But ask yourself, just how good are you at returning a car empty? It's often cheaper to return it full and fill it up yourself than to buy the entire tank at a small discount.
Generally, you can save a lot on gas by going for the smaller, more fuel economic car.
Consider renting away from the airport
Off-airport locations (like downtown Chicago) can have cheaper rates compared to the airport.
It's especially interesting if you plan to combine this with staying a few nights in downtown Chicago since parking a car there typically costs a lot of money as well.
Compare totals
Additional costs you should expect on top of the cost of the car itself:
Drop-off fee: the fee for not returning it to where you rented it
Insurances: any insurance you accepted
Gas: either the missing amount of fuel in the car if you return it not filled up or the amount for the full tank of gas if you agreed to that.
Airport fees: fees for renting a car at the airport
Additional driver fees
Taxes
…
Extra costs that are hard to predict:
Any damage suffered by the car, not covered by insurances
Should you turn in the car later than agreed upon, you'll face additional fees
Cleaning fees if the car is returned dirtier than average. If it's filthy, drive it through a carwash to make it all less stressful.
…
When comparing deals: always compare totals. Include everything you can expect: insurances, drop-off fees, taxes, etc. Often you will find that the cheapest initial offer is not the best deal after you add in all you need.
Make sure to compare the total costs for the actual time of your trip and check them just before you book as prices do change significantly both with the actual start and end dates of the rental as well as the moment of making the reservation.
What type of car?
Any car will do, but some limitations and select vehicles might need some more explanation.
RV
See more in the dedicated FAQ entry on RVs on Route 66.
SUV
SUVs are great to travel the mother road as they have a better ground clearance allowing you to go places a regular car would bottom out. There are not that many places that absolutely need it. The off-road capabilities of these vehicles are typically limited. And last but not least, don't forget rental agreements prohibit off-road use.
4×4
A real off-road tested 4×4 is needed for one special section: La Bajada Hill. Make sure both the driver and the vehicle are up to it. This is not for inexperienced off-roaders. Get permission first from the local tribe before you drive out there. [At the time of writing: La Bajada is closed off]
Convertible
A convertible is the dream car of many for their Route 66 trip. But take care: you'll be crossing deserts where it regularly reaches 120˚F (49˚C). You want that roof up in those cases and the air conditioning on.
Quite a few models of convertible cars have a tiny amount of trunk space with the roof down. This can be a problem if you don't travel very light.
Moreover, finding them for one-way rental at a decent price might not prove to be easy.
Classic
Concerning cost, this is off the scale. A true classic can be rented, but the offering is limited and mostly aimed at the movie industry, celebrities, etc. So, while you can dream about it, this is one of the cases where "if you need to ask how much, it's not for you" applies, unfortunately.
You need a very reliable car as you'll drive it through a desert and you'll be adding a lot of miles to it.
Specific car make and model vs. classes
Renting a specific make and model of car (such as "Ford Mustang") is sometimes possible, but in general, you rent a car of a given "class". These will have pictures and descriptions of one make and model on them, but there's a small note "or similar…" and that means you can end up with a somewhat similar car in however a way they define it. While this is mostly not a huge deal, for some cars like convertibles this can be problematic, as many tend to have tiny usable trunk sizes when the roof is down.
If the rental agency at the time you pick up your car doesn't have any in the class you reserved, they'll first try to get you to pay for an upgrade to a bigger (more expensive) class. If that doesn't work, they might offer the upgrade for free. Still, it means you'll end up with a different car than what you selected when you rented it.
Upgrades
Car rental agents often will try to upsell things when you pick up the car. This can be tiresome, esp. if you arrive after a long flight. Take care with the upgrade prices they quote: it's likely just the increase in the daily rate for the car itself. Insurances for the more expensive car will also increase. The same goes for taxes and other fees. Similarly, it'll consume more fuel. So, it's best to ask for the new bottom line total, including all taxes, fees, insurances, etc. before accepting any upgrade.
What they'll also try to sell you: use of a built-in GPS system, use of satellite radio (vs. AM/FM), more insurances (roadside assistance, … )
GPS
If you plan on using the built-in GPS in the car, better check the GPS FAQ entry.
Paying for the rental car
You probably either pay through a travel or booking agent or pay directly to the rental company. Either way, the rental company will still insist on having a hold as a deposit on one of your credit cards before they let you drive away.
This hold will most likely not work without difficulties on debit (ATM) cards nor on prepaid cards.
If you did reserve the car with a credit card and prepaid it, they will most likely insist on seeing the card that you used to pay for the car as well.
Upon returning the rental car, you're mostly asked if you want to leave any charges not yet paid for at the start of the rental period on the card you left them to take a hold on. In that case, you do have the option to have them charge these on a different card.
If you're not happy with the car they gave you
If you're unhappy with the car for whatever reason, you can change the car for another one of the same class -or they'll happily sell you an upgrade just as well-. If you're still in the parking lot of the rental agency: just go to their office to make it happen. You can do this even after you drove off of their lot: just call the rental agency and arrange for a swap before driving there.
International driver's license
It probably depends on the language and model of your driver's license how much this is needed. If you do have an international driver's license, take it along, especially if your real driver's license is not in English, as you never know if a police officer might want to see it.
For Europeans: in general, the rental agents do not want to see your international driver's license. They want your real one. In recent years there are no more issues with driver's licenses that do not expire and/or have no home address on them. But be prepared to explain how it works back home and have alternate forms of government-issued photo IDs that do expire and do have your address on it ready to show them as needed.
Insurances for international tourists
Most likely your own car insurance will not cover the least bit of a rental car. So, you do want some protection:
You do not want to pay for the car if you damage it, or if it gets stolen, make sure the insurance for that is covered. Not having this insurance can also expose you to the risk of having to pay not just for the replacement value of the car, but also for the loss the rental agency incurs from not being able to rent the car to others after you should have returned it.
You do not want to have to pay the (gigantic) amounts awarded by the US courts to people you might hit in an accident, so make sure your liability is covered.
Take extra care with this insurance to figure out from the fine print what the maximum this insurance will pay to victims is. If this maximum is rather low, you still run risks, but might end up with a better price for the insurance.
The names of these insurances change between rental companies. Sometimes the rental agencies will include them on their own depending on your home address, sometimes they won't.
These insurances are not cheap.
People living in the US might have existing insurances that make them avoid these insurances. If you live outside the US, there is only an incredibly small chance you're covered unless you make sure to get these from the car rental agency.