FAQ
FAQ
What do I need to know when considering to drive Route 66 in an RV?
Back to FAQ overview
Random point of interest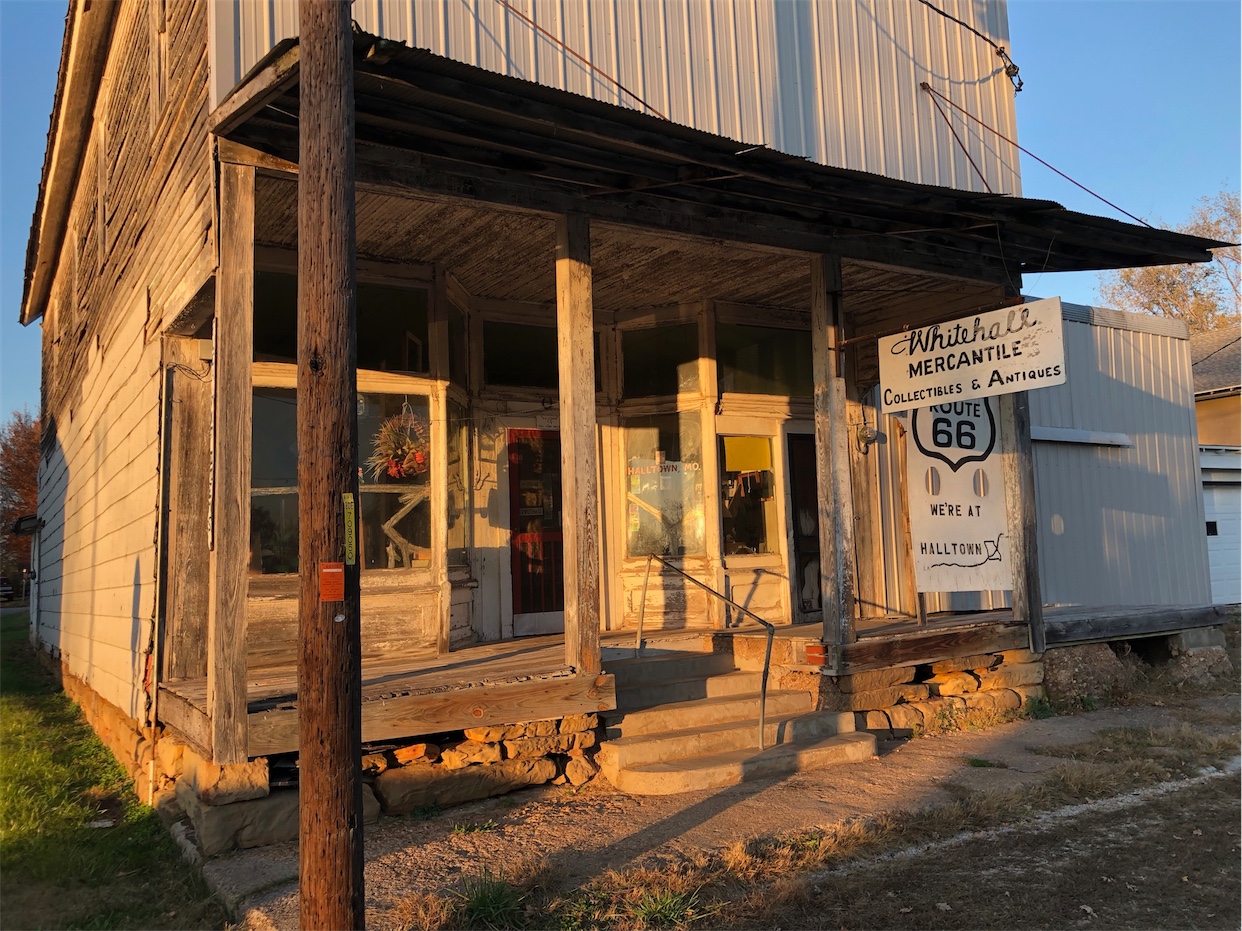 Whitehall Mercantile
The Whitehall Mercantile was built in 1900. Thelma White, a founding member of the Missouri Route 66 ...
Detail
What do I need to know when considering to drive Route 66 in an RV?
What do I need to know when I consider driving Route 66 in an RV?
Should I do Route 66 in an RV?
If you are a big fan of RVs and own one already: there's no point in telling you about the drawbacks of driving it through the towns that Route 66 crosses, so go for it.
However, if you have to rent one, or are only considering it as an option to save money, it's a different story.
Can I save money by renting an RV instead of renting a car and staying in motels?
In all honesty: the odds are stacked against the RV.
Renting the RV is more expensive in itself.
The one-way drop off fees will be significant in both cases, but they will be higher for the RV.
RVs typically do not come with unlimited miles, and many a traveler of Route 66 racks up well above 3000 miles on their one-way trip. Add in a few side trips, and it quickly becomes 4000 miles. If you're on a budget and you have to consider every mile driven as an extra cost, it quickly becomes a mood killer.
It gets worse when the rent of the RV doesn't include essentials such as kitchen tools, bed linen, towels, etc. You have to pay extra for that in most cases!
When it comes to fuel, the RV is going to be a lot less economical than the car.
Once you're done driving for the day you want to park the RV for the night. You can do that at campgrounds that provide hookups. These come well equipped, but their price is almost the same as a budget motel in many cases. Obviously, you could also stay overnight for free (see further), but it will be less comfortable, and you might need to run your generator to get air-conditioning, etc. This incurs fuel charges on top of the hourly fee for the use of the generator. These generators tend to make noise as well.
Insurances you need will cost more for an RV than for a small car. Read the small print to avoid surprises: for example, damage resulting from hitting overhead things is often excluded from the insurances on rental RVs.
Even if you plan to stay mostly at free overnight stops, remember that you need to dump the waste tanks and refill clean water every so often as well, and free sites are unlikely to allow that.
In an RV, you have a small fridge and a small kitchen so you can prepare some meals yourself. This will enable you to save a bit of money as well as keep a healthier diet than what you can find in restaurants.
That said, many motels also offer a fridge and microwave in your room. At the same time, most motels include some (sometimes a bit limited) breakfast in the price as well.
As you can see, you need to make up for the significant extra cost for the RV vs. the car with a small difference you can make every night or on meals. It's not going to be trivial.
If it's possible or not depends a lot on how many rooms you need in a motel (a room with 2 double beds should sleep 4 people) and your personal tastes, as well as finding a fabulous deal on the RV itself. But it's not likely if it's just the two of you.
But it gets worse …
Are there drawbacks to an RV for a Route 66 trip?
RVs are large to very large vehicles. While they come in many sizes, they're always going to be significantly larger than any regular car or SUV. Some of them will exceed the maximum allowed height or the maximum weight on some stretches or even the maximum length on for example Oatman Rd between Oatman and Kingman, AZ. This will put you onto the dreaded Interstate more often than in a car and will make you miss out on some beloved stretches of Route 66.
The experience of staying in iconic motels such as the Blue Swallow and eating in iconic restaurants is an integral part of the Route 66 experience for many of us. So if you want to stay or eat there, you'll still be able to do so in your RV in most cases, but saving money will not happen when you do.
Parking a large vehicle is more complicated than parking a car.
Similarly, the mere idea of having to turn about on a dead-end section will ruin the whole concept of exploring some older alignments for those driving an RV as having enough room to do that is quite unlikely.
Those that drive the really huge RVs you see on the Interstate typically tow a smaller car or 4×4 (a toad) to use once they have set up camp. But on Route 66 your destination is a road. The reasons to stop and take pictures, go inside businesses, talk to the locals, etc. are spread out along that road. So, unless you have the time to drive back and forth a lot in the toad, you're going to find that the things you want to see and stop for are not nicely clustered around a place where you could set up camp for the night. Those looking to rent an RV to save money: if you also have to rent a car to tow, there's no way to save money anymore.
Driving a large RV through a metropolitan area like greater Los Angeles or Chicago isn't going to be your stress-free vacation. Many already don't like it in a car.
Exactly where can an RV not go?
A comprehensive list of things where the size or weight of an RV might be a problem on Route 66 isn't readily available.
Your EZ66 guide has warnings about some low bridges "RV alerts", but it might not be complete.
There are quite a few bridges with weight limits on them. You'll find them posted right at the bridge itself. Some of these bridges have weight limits as low as 3 tons (US tons: only 2721 kg or 6000 pounds).
There's a length limit of 40 feet (at the time of writing) on Oatman Rd between Oatman and Kingman, AZ.
To be safe, and not have to turn around due to some of these limits, it's best to use a GPS intended for trucks and enter the size and weight of your specific RV into it. It will guide you away from most trouble spots (and put you a lot more on the dreaded Interstate).
But even then, you will remain responsible. Also, beware that most rental insurances exclude damage from hitting things overhead with an RV.
Are there other ways to save money aside from renting an RV?
An RV provides a (small) kitchen. If you get a cooler (even if you have to buy it and dump it before you fly home), you can get food at any supermarket and make your own salad or wrap or so once a day and eat it picnic style. You'll be set to eat both healthier and get food at grocery prices instead of being forced to eat at a restaurant multiple times a day. You can still go to a restaurant, but having the option allows you to control your budget a bit tighter. It's not the kitchen an RV would give you, but it'll go in that direction.
If you want to save money on renting a car: stick to a small car. Avoid the upgrades as they cost more in insurances, drop-off fee, fuel, taxes, … To shop around, we suggest rentalcars.com.
If you want to save money on motel rooms: you can as well, but you need to make sure that the motel room you get is right for you. See our FAQ entry on finding the right hotel for you.
If you find an offer to transfer an RV, you can typically rent it a lot cheaper, but you'll have to adapt to their dates and won't have it for all that long either. These offers tend to find takers pretty fast.
Are you against RVs?
No! For something like a trip where one plans to stay a handful of days in each of a few National Parks and travel between them in an RV: it might well be the ideal choice. It's just that for a trip where your destination is a road like Route 66, there are significant drawbacks.
Anyway, to each their own and fans of RVs should not be pushed out of their choice.
Staying overnight for free in an RV
Some places allow RVs to stay overnight for free.
Truck stops allow this, but you risk a lot of noise from the trucks. The business also sells things you might need.
Some supermarkets allow overnight stays on their parking lots. Best known to do this is Walmart, but many of the other large chains allow it too. Please note that not all locations allow it. Always ask inside before you go park for the night and be aware that some cities have policies where they discourage this (the campgrounds don't like this everywhere)
Harvest Hosts provides its members with free overnight stays (no hookups) in a few locations along Route 66.
Sometimes you're allowed to camp on public land. But you must make sure that it's both public land and allowed.
None of these free options will provide hookups. Remember that they allow you to park, not set up camp and live in their parking lot.
Campgrounds
Ron Warnick maintains a list of Route 66 related campgrounds.
For international visitors
An RV in the US can get really large – think a full-size bus. Even the smaller ones are going to be larger than what you see driving around in for example Europe. That size is excellent once you're parked, but while driving Route 66, it's far from ideal.
Be very careful with private property in the US. The owners of a barren piece of land that might look like a perfect spot to you will in all likelihood take offense at you picking their property to stay overnight. Expect an unfriendly to outright hostile encounter if you try anyway. If you do park somewhere for an overnight stay, always get permission first.