FAQ
FAQ
What do I need to know about finding gas (in the desert)?
Back to FAQ overview
Random point of interest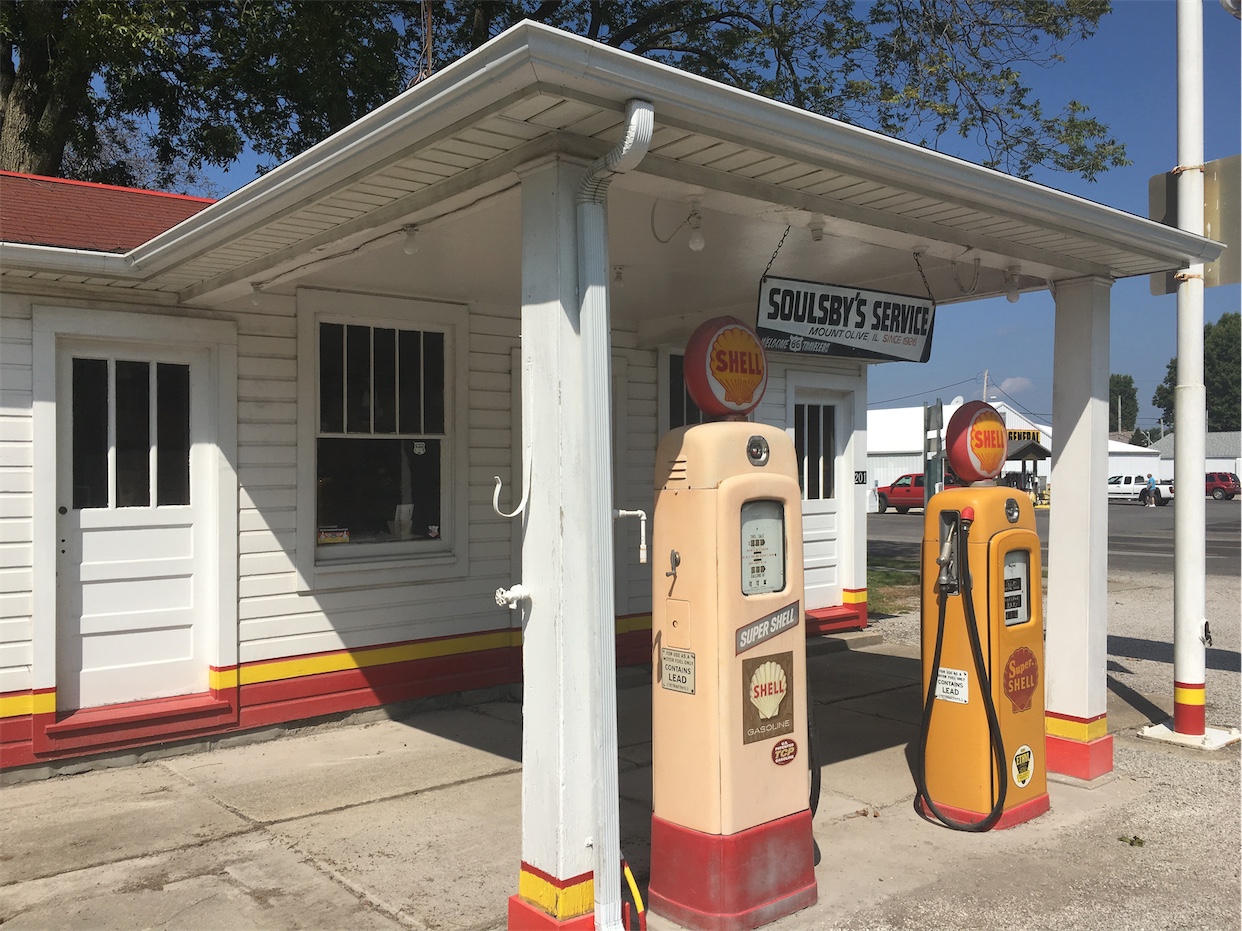 Soulsby Service Station
Soulsby Service Station was established in 1926 by Henry Soulsby who designed and built the complex. ...
Detail
What do I need to know about finding gas (in the desert)?
Anything we need to know about finding gas (in the desert)?
Outside of the desert
Finding gas stations is relatively easy, either you simply encounter them, or you find them clustered around the Interstate exits that aren't really far away for most of Route 66.
The big exception is in the desert.
In the desert
It becomes more difficult in the desert as distances between gas stations increase dramatically and some of them either run extreme prices, are not from major brand, or have limited hours of operation.
The stretches to look out for are:
Seligman, AZ to Kingman, AZ (via Peach Springs)
This stretch is about 87 miles long and has very few gas stations on it. There's a relatively new store featuring a gas station in Peach Springs, AZ operated by the Hualapai Tribe. There are two options near Truxton, AZ, neither of a major brand. There's an option in Valle Vista, AZ as well.
Prices can vary a lot (also over time), and hours of operation can equally be problematic in some of these places.
Kingman, AZ to Needles, CA (via Oatman, AZ and Topock, AZ)
There is gas in Topock, AZ, just south of Golden Shores, AZ: it's a block off of Route 66 on Powell Lake Rd. (to the west), otherwise you won't encounter any gas station on this 67-mile-long mountain road stretch.
Needles, CA to Ludlow, CA (via Goffs, CA and Amboy, CA)
This 110-mile section has limited availability of gas: There is gas available in Fenner, CA and Amboy, CA. Neither place is going to offer it cheap. Roy's in Amboy does offer after hours emergency gas service (the phone number to call is on the door to the old cafe).
At the time of writing there is a detour in place between Fenner and Amboy due to washed out bridges. This extends the stretch between these two to 47 miles.
Ludlow, CA to Newberry Springs, CA
No gas on this 32 mile stretch.
To be sure
Fill up before entering these sections in:
Seligman, AZ
Kingman, AZ
Needles, CA or at one of the last/first gas stations below
Ludlow, CA
And as always, in the desert half a tank is to be considered empty: fill up at the very next opportunity, it's not the time to fuzz over price as you do not want to risk running out of gas in the desert.
None of these sections will be a problem for a standard car or motorcycle. But do take care with heavily customized vehicles having tiny gas tanks and a huge consumption: you need to be able to cover at least 70 miles without a source of gas.
Cost of Gas
Gas prices can change rapidly. There are specialized services that keep track of this such as GasBuddy. These will also show differences between gas stations that are relatively close to one another and could yield significant savings that way.
Those looking to save a bit on the typically high fuel costs while in Needles, CA: it's easy to cross into Arizona, see below. Prices typically are lower there.
Typically gas is a lot more expensive in California than in Arizona.
Last/first gas in Arizona
There is a gas station in Topock, AZ, just south of Golden Shores, AZ. It's one block away from the Route 66 through Oatman, AZ. Turn west on Powell Lake Rd.
There is a truck stop at exit 9 on I-40 on the south side for those that are avoid Oatman, AZ.
In Needles, CA you can quickly go (a mile or so) north on K. St. and cross the Colorado river into Arizona on AZ-95. There are a number of gas station there.
Those running on fumes or plannig it too tightly: remember there are no guarantees any gas station will be operating …