FAQ
FAQ
How long does it take to travel Route 66 end-to-end?
Back to FAQ overview
Random point of interest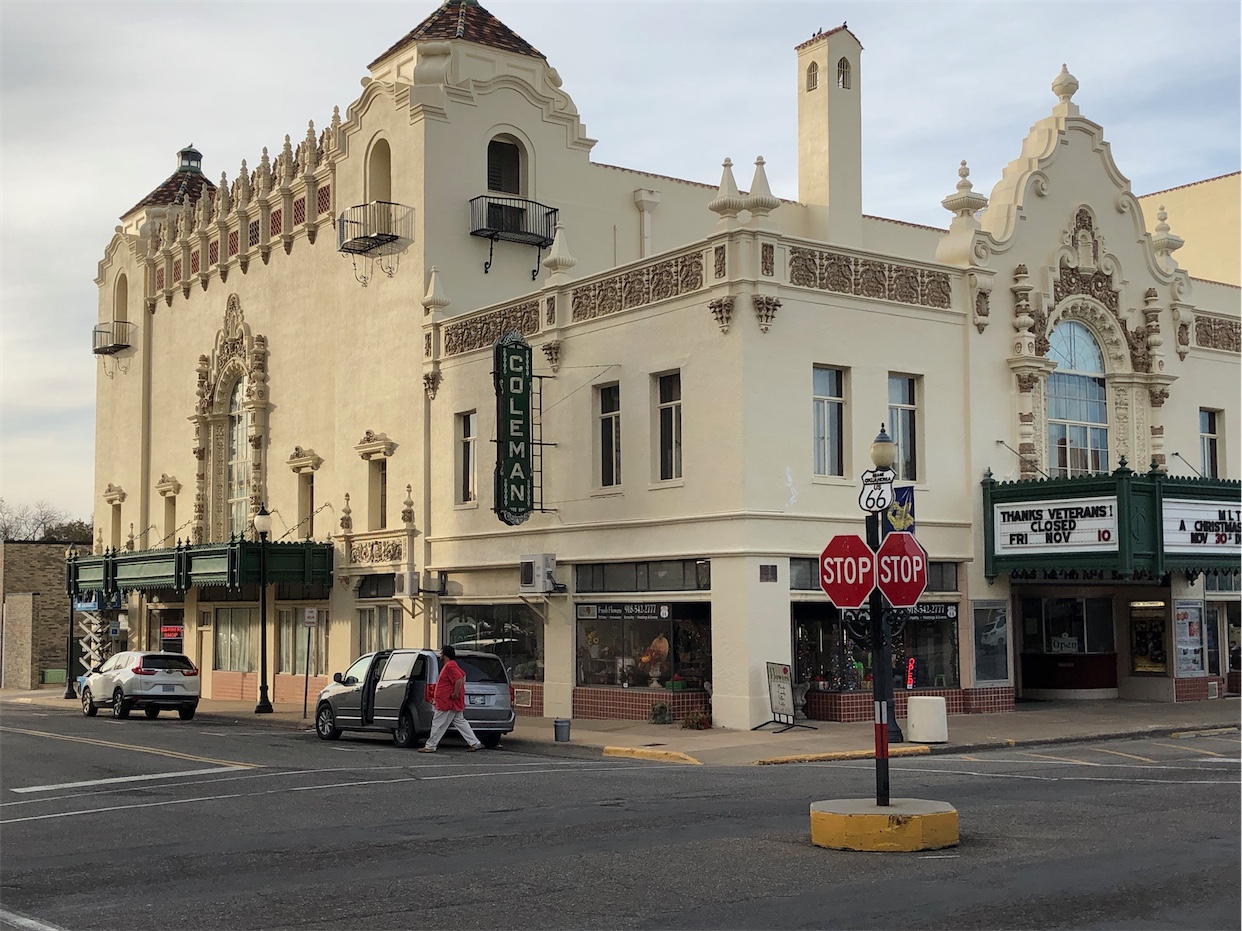 Coleman Theater
The Coleman Theater opened on April 18, 1929. Counted among the many things that make this theater ...
Detail
How long does it take to travel Route 66 end-to-end?
Allow more time …
The general impression when seeing first-time Route 66 traveler's plans or those made by travel agencies is that they allow too little time to enjoy the old road and what it has to offer.
The trick to enjoying Route 66 is to
Remember that you're not on a race to a destination. From the start to the end of the road, you are at your trip's destination. So, relax and enjoy yourself.
Stay off of the interstates as much as possible. They are the opposite of what Route 66 is about nowadays.
Allow time to stop, so you can take pictures, frequent the surviving businesses, talk to the locals, and enjoy yourself.
Rules of thumb
If you want to enjoy it:
Plan your overnight stops not further apart than 200 miles. Ideally, stay under 150 miles a day.
Maximize the number of driving days. Staying in the same spot can be fun. But if your total time is limited, it will eat into your enjoying the rest of the trip.
Be very careful with side trips. They eat up a tremendous amount of your time.
That sums up to needing 3 weeks to a month to fully enjoy it all.
If you're pressed for time
We fully realize that not everybody will have this much time (or money) to spend on a vacation. So, if you're pressed for time, the most straightforward solution is to split up the trip into sections. And for example, do just half of the route. Leave the other half for another year. It will take away a bit of the nostalgic concept of doing it all in one go, but it's more fun not to be pressed for time and do two halves properly than to drive it all twice and still having missed everything as you sped past it all.
If you want to speed it up nonetheless: Interstates
It takes 4 days to drive between Chicago and Los Angeles on the interstates. But this really isn't experiencing Route 66 at all. Actually, you'll miss it all completely.
It can be useful to know though for those wanting to do the mad dash back to the starting point. 
You could drive the Interstate for short sections as well. But it ruins the experience. Moreover, if you have to get off at every exit and backtrack on the old road anyway to see something, it's highly doubtful you'll actually have a net gain in speed. But at the same time, you lost the experience of driving the old road at a leisurely pace.
If you want to speed it up nonetheless: Merely driving a Route 66 alignment without stopping
We're assuming a typical modern alignment, such as the one described in the EZ66 guide is picked. This means driving through towns, with stops, traffic lights, school zones, etc., while avoiding unpaved sections, not turning into dead-end sections, and no exploring. 
It's merely driving Route 66: count on at least 8 driving days. 
You'll average about 300 miles a day that way.
But remember that you will not have time to stop for the hundreds of things you'll encounter, nor have time to photograph things or talk to the locals. 
This will give you the very minimum to drive Route 66 and get started with touching on the experience.
Side trips
Side trips can be quite fun, but they have one thing in common: they are hungry for your time, so allow plenty. Don't get sidetracked too much by these, Route 66 is special enough in itself to keep you busy and interested, but many want to do at least a few of them.
Some popular side trips can also make you miss out on some of the more popular things on Route 66 itself. The worst example of this is Las Vegas, NV: it's not near Route 66, and it forces a lot of people to miss the section from Kingman, AZ to Barstow, CA. This section contains Route 66 towns such as Oatman, AZ and Amboy, CA.
Pick your overnight stops
Picking your stops in major cities is what most travel agents tend to do. But there's at least as much fun in staying in the smaller towns. Make sure to have your stops at somewhat equal distances and not further apart than 200 miles (250 in the Mohave desert where there are less frequent reasons to stop).
If you're slow, want to make many pictures, like to talk a lot or anything else that makes you slower than average, do not plan for more than 150 miles a day of progress.
Staying for multiple days in the same town can be useful. That said, on a Route 66 trip where you would be limited in time, most are better off with more and shorter driving days than an extra day in a large city.
Those flying in from abroad might need to allow a few extra nights to get rid of jetlag before they set out to drive. You can use it to get some supplies like some water to keep in the car.
Summary
If you have less than 10 driving days: try to focus on a shorter section, you'll have more fun.
Anything starting at 14 driving days is entirely possible to enjoy. The more time you have, the more you can do things such as getting to know the people living there, exploring the different city alignments, finding old abandoned alignments, driving on unpaved sections, or start some side trips …
3 weeks to a month gives you the ability to have a trip of a lifetime. This allows you to begin exploring for long lost, abandoned alignments, hiking to difficult to access spots, etc.
Some true roadies could spend the rest of their life on Route 66, slowly traveling back and forth, so there is no upper limit for the true fan.